AT&T Wireless Phone Number
Calling AT&T Wireless customer service faster by GetHuman
Current Wait:
37 minit
&nbsp
(33m avg)
Hours: Mon-Fri 8am-10pm, Sat-Sun 7am-7pm EST; best time to call: 8:15am
Get targeted help: Tell us the issue so we get you to right rep, offer relevant tips, reminders & follow-up!
Get to a live person fastest:
Tekan 0 kemudian 0 # kemudian 0
If you find yourself lost or frustrated, we partner with a California-based expert help company to provide you with tech support 24/7. Enjoy a $1 one-week trial membership and get help from a live expert now.
Click to learn more.
Reasons customers like you called recently
My phone is shutting off and will not fully charge. I need a new phone. I also have hom...
I just want to switch phones from one At&t phone to another At&t phone for my elderly f...
Looking to possibly cancel my service due to them charging me a non returned fee on a d...
Cell phone does not receive any sound. Please have a LIVE ,HUMAN Call to...
Think I left my drivers license in store in Washington Missouri
Tracking new replacement iphone from assurion. It has been over ** data and still no ip...
problem with billing. i need charges reversed
Just paid phone bill and data is not working need to make sure all my settings are correct
Need to swap phone a number to new account
Attempt to combine home internet wireless phone and direct tv into one bill , bundling
Pay for wireless phone time
I need to know when the tech will be here to install service
I live in Riverplace Community at *** NE Leaping Frog Way, Port St Lucie, FL. *****. Te...
Why can't I dial *** on my cell phone and get a contact? I need to find out what accoun...
i signed up for an ATT line and got the new iphone and they have a promotion that you...
See more recent reasons for calling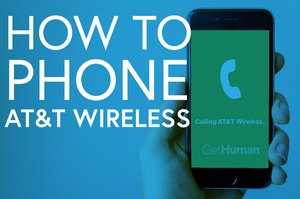 Our Editor's Notes on AT&T Wireless's Phone-Based Customer Care
AT&T Wireless provides wireless services for 162.3 million U.S. subscribers. As a provider of phone services, it isn't at all surprising that AT&T would receive a lot of customer support calls.
Why Do Customers Call AT&T Wireless Customer Support?
Consumers call AT&T Wireless for help with a range of issues, including:
Starting, changing and canceling service
Purchasing and upgrading devices
Technical support
Billing questions and issues
Arranging for equipment returns or repairs
AT&T Customer Service Phone Hours
AT&T Wireless offers phone-based customer service every day from 7 am to 10 pm local time. Customers can call AT&T's toll-free number or simply dial 611 from their AT&T mobile phone.
There is a separate toll-free number for starting new service, and AT&T representatives are available to answer these calls Monday through Friday, 8 am to midnight eastern time. Weekend hours are 8 am to 11 pm eastern time.
AT&T Wireless customers who are traveling and need assistance with their phones can call a separate line 24/7 and people with disabilities or who need TTY services can receive customer support Monday through Friday from 10 am through 10 pm eastern time and on Saturdays from 11 am to 7:45 pm eastern time.
Customers of AT&T Wireless' prepaid service should be aware that there is a different set of phone numbers for their customer service calls, although dialing 611 from an AT&T Wireless prepaid phone remains the quickest way to connect with a live customer support specialist.
AT&T Call Centers
AT&T maintains a network of call centers in the United States and Mexico, as well as other locations outside of North America. The company states on its website that it is committed to developing its customer service talent and promoting from within. To this end, AT&T provides educational benefits, mentoring and career paths to management positions.
How Do Consumers Feel About Calls to AT&T?
As is true of many large companies, the phone-based customer service department at AT&T Wireless has its detractors and supporters. Many people end a call with AT&T Wireless customer service representatives feeling satisfied, though there are cases in which callers are either upset with the service received or find out later that their issue has not actually been resolved.
AT&T Wireless Customer Support Cases in the Media
One case that caught the attention of the consumer advocacy press involved a man who returned a seemingly defective phone to AT&T, which sent him a new one. AT&T, like many companies, has a policy of only refunding the cost of a defective device after the device has been received by the company and inspected.
In this case, AT&T took a long time to issue a refund. The customer became upset and learned that AT&T does not have a dispute-resolution process. Eventually, third parties got involved and secured the refund for the customer.
Other cases addressed online involve billing disputes in which consumers receive conflicting messages each time they call AT&T Wireless customer service. One tip that advocates offer is to get all agreements regarding refunds, plan changes and rate discounts in writing, making it easier to work with AT&T in case of a dispute.
What Can You Accomplish While on the Phone with AT&T Wireless?
Most consumer concerns and issues can be addressed while on the phone with an AT&T Wireless representative. These include:
Purchasing a new wireless plan, updating a current plan, or canceling service
Selecting and purchasing a new device
Getting technical support and information about returning a device for repair or replacement
Make a payment
Address billing and payment concerns
What Can't Be Done Over the Phone?
If a device needs to be repaired or replaced, the representative can provide information on how this can be done, but the phone will need to be mailed to AT&T or brought to a physical location.
What Can You Do About an Unsuccessful Call to AT&T Wireless?
Despite your best efforts, you may find yourself hanging up the phone after a call to AT&T Wireless customer support feeling demoralized. If you were not able to effectively communicate your problem to the support representative, or you were unable to get the service or price you feel you deserve, consider the following:
Wait an hour or two and then call AT&T Wireless again. While waiting, jot down your main concerns and what happened on the last call. Sometimes a different representative is more knowledgable and can get your support case back on track.
Visit an AT&T store and speak to one of the associates about your concerns.
Request a live chat on the AT&T Wireless website. Live chat operators are available every day from 7 am to 1 am eastern time.
Contact AT&T customer service through its customer forums, available through the AT&T Wireless website.
Reach out over AT&T's social media accounts, including Twitter, Facebook, and YouTube.
The last three options provide you with a written record of your conversation with AT&T representatives, something that can be very helpful as you try to resolve your issue.
Customer Number 800-331-0500 - by the Numbers
Nombor telefon untuk didail800-331-0500
Panggilan balik tersediaYA
Panggilan dijemput oleh orang yang sebenarYA
Jabatan yang anda hubungiKhidmat Pelanggan
Waktu pusat panggilanIsnin-Jumaat 8 am-10pm, Sat-Sun 7 am-7pm EST
Masa terbaik untuk mendail8:15 pagi
Navigasi labirin telefon ke manusiaTekan 0 kemudian 0 # kemudian 0
Rata-rata menunggu
Penantian semasa37
Kedudukan (antara nombor telefon)1
Kedudukan (keseluruhan)1
Kaedah alternatiftelefon, sembang, web, facebook
Kualiti komunikasi69%
Kualiti pertolongan58%
Undian pelanggan5,078
Maklumat terakhir dikemas kiniThu Feb 25 2021 10:00:00 GMT+0000 (Coordinated Universal Time)
AT&T Wireless's Best Toll-Free/800 Customer Phone Number
Ini adalah nombor telefon AT&T Wireless terbaik, penantian semasa masa nyata dan alat untuk melangkau terus melalui talian telefon tersebut untuk menghubungi ejen AT&T Wireless. Nombor telefon ini adalah Nombor Telefon Terbaik AT&T Wireless kerana 72,204 pelanggan seperti anda menggunakan maklumat hubungan ini selama 18 bulan terakhir dan memberi kami maklum balas. Masalah umum yang ditangani oleh unit penjagaan pelanggan yang menjawab panggilan ke 800-331-0500 termasuk Billing issue, Change or cancel service, Complaint, Overcharges on my account, Service or technical issue dan masalah perkhidmatan pelanggan yang lain. Pusat panggilan AT&T Wireless yang anda hubungi mempunyai pekerja dari India, Philippines, Montana, Colorado dan dibuka Mon-Fri 8am-10pm, Sat-Sun 7am-7pm EST mengikut pelanggan. Secara keseluruhan, AT&T Wireless mempunyai 10 nombor telefon. Tidak selalu jelas apakah kaedah terbaik untuk bercakap dengan perwakilan AT&T Wireless, jadi kami mula menyusun maklumat ini berdasarkan cadangan dari komuniti pelanggan. Terus berkongsi pengalaman anda agar kami dapat terus meningkatkan sumber percuma ini.
Contacting AT&T Wireless - by phone or otherwise
Walaupun 800-331-0500 adalah nombor bebas tol terbaik AT&T Wireless, ada 14 cara untuk menghubungi mereka. Cara terbaik seterusnya untuk bercakap dengan pasukan sokongan pelanggan mereka, menurut pelanggan AT&T Wireless yang lain, adalah dengan menghubungi 888-238-3712 nombor telefon mereka untuk jabatan pelanggan baru mereka. Selain menelefon, pilihan kegemaran seterusnya untuk pelanggan yang mencari bantuan adalah melalui 888-238-3712 untuk pelanggan baru. Sekiranya anda fikir maklumat ini tidak tepat atau mengetahui cara lain untuk menghubungi AT&T Wireless, sila beritahu kami supaya kami dapat berkongsi dengan pelanggan lain. And you can click here if you want to compare all the contact information we've gathered for AT&T Wireless.
What is GetHuman's Relationship to AT&T Wireless?
In short, the two companies are not related. GetHuman builds free tools and shares information amongst customers of companies like AT&T Wireless. For large companies that includes tools such as our GetHuman Phone, which allows you to call a company but skip the part where you wait on the line listening to their call technology music. We've created these shortcuts and apps to try to help customers like you (and ourselves!) navigate the messy phone menus, hold times, and confusion with customer service, especially with larger companies. And as long as you keep sharing it with your friends and loved ones, we'll keep doing it.